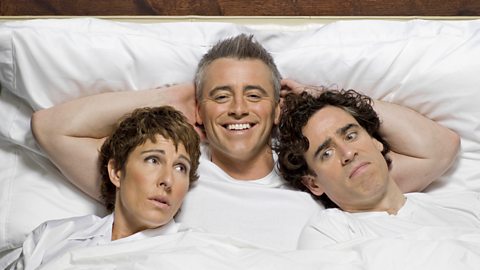 I recently finished watching the first two seasons of
Episodes
. This series stars two British actors
Tamsin Greig
&
Stephen Mangan
. This series also stars
Matt LeBlanc
! This show is broadcast here in the US on
Showtime
. In the United Kingdom this show is broadcast on
BBC Two
. It is a British/American sitcom that I am really enjoying!
This Photo described what I thought going into the first episode of
Episodes
:
This show starts with a married couple Sean Lincoln [
Stephen Mangan
] & Beverly Lincoln [
Tamsin Greig]
. In the show they're writers and producers for this show in the United Kingdom called
Lyman's Boys
. Their show just won another
British Academy Televsion Award
. At the award ceremony Merc Lapidus [
John Pankow
] talks to them about making an American version of
Lyman's Boys
. He tells them he will get them a house to stay in at while in LA and gives them deals they can't refuse.
Merc is the head of what shows gets broadcast on a major network. Merc later gets Matt LeBlanc [
Matt LeBlanc
] to join the team and star as a head master. Matt LeBlanc is supposed to be playing himself in this series.
Being a fan of
Friends
I love when Matt brings up things from
Friends
during the show!
Here is a perfect trailer of Episodes:
My favorite interactions are the ones between Sean and Matt as well as anyone with Merc in it! Sean and Matt develop this bromance that was fun to watch. Beverly and Matt were not friends at first and never have been in an episode I have seen.
Merc is the biggest sweet talker ever. He literally tells people whatever they want to hear all the time. He cares more about making money than making a good show. He is intense and his emotions change so fast, I laugh in almost every scene he is in!
I give this show a 8/10 and I will continue to watch the rest of Episodes soon.