As I run out of movies and shows to talk about.... I browse through some of the movies that I have had a good time watching and stumbled upon this one......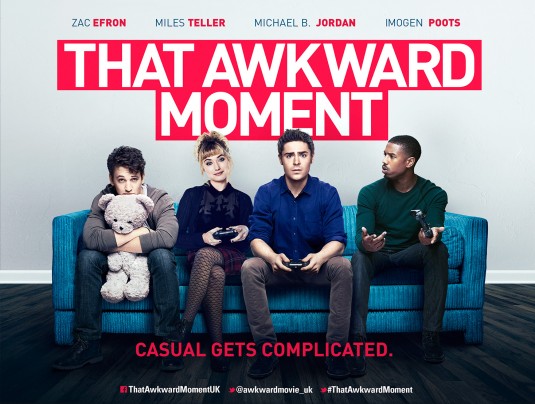 That Awkward Moment is an enjoyable film. It keeps the laughter alive and the "bromance" among three friends. That Awkward Moment is an American romantic-comedy film. It was directed by Tom Gormican, who has directed other films such as Save the Date (2014) and Movie 43.
The stars of this movie include Zac Efron, Miles Teller, Michael B. Jordan, and Imogen Poots. The movie is extremely fun and shows the how even the promises between "bros" can't stop these men from relationships and women. The screenplay was originally released in New Zealand and titled "Are we Officially Dating".
Initially this movie serves to shows and develop the relationships between bros and couples.
"Being there for someone when they need you thats all relationships are."